The British Virgin Islands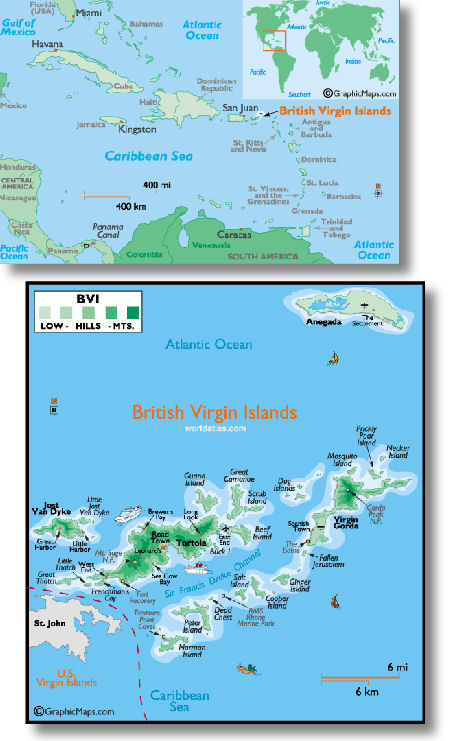 The British Virgin Islands also known as the "Nature's Little Secrets" were discovered in 1493 by Christopher Columbus on his second voyage. The islands are a territory of Britain and are comprised of 50 islands and cays, many of which are uninhabited. Our closest neighbors the U.S. Virgin Islands and Puerto Rico.
The population of the British Virgin Islands is approximately 25,000 people. The four most inhabited islands are Tortola, Virgin Gorda, Jost Van Dyke and Anegada. Tortola, is the biggest island and is the centre of the territory's government and commerce. Its highest peak is Sage Mountain which is one of our national parks, has a height of 1,710 feet. It also boasts many breathtaking white sandy beaches.
The capital Road Town is a bustling municipality with many shops, restaurants, hotels (eg. A & L Inn) and many marinas. Virgin Gorda is the second largest and is known for its pristine beaches and spectacular boulder formation known as "The Baths". It is also home to many upscale resorts. Jost Van Dyke also has beautiful beaches, most notably White Bay, and is home to a number of beach bars and restaurants along its shore.
It is also home to the world famous "Foxy's" beach bar and restaurant.
Anegada, is located northeast of Tortola and has a very small population. It also has lovely white sandy beaches and is mostly surrounded by a Horseshoe Reef. Anegada is most famous for its lobster, Iguanas and Flamingos.
However, there are other islands in the B.V.I to explore that are hosts only to resorts or beach bars. These islands include, Peter Island, Norman Island, Cooper Island, Necker Island, Marina Cay and Saba Rock just to name a few.
The British Virgin Islands are also known as the sailing capital of the world due to our famous trade winds and are perfect for a sailing vacation. The islands of the B.V.I have so much to offer due to the diversity of our many islands and cays that it's like having many vacations in one location.
The British Virgin Islands are definitely a secret worth sharing.